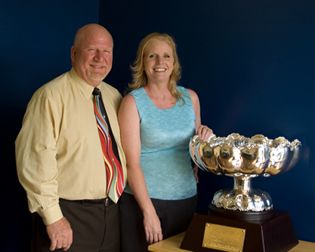 Star Engraving Receives 2009 Cronite Cup
PRESS RELEASE
HOUSTON, TEXAS, July 24, 2009 - Star Engraving, Fine Quality Engraved Stationers and Printers, has been awarded the prestigious Cronite Cup which is awarded for the Most Excellent Engraved Letterhead of the Year. The award was presented by the Cronite Company Inc., a global producer and distributor of engraving equipment and supplies, located in Parsippany, New Jersey. The prize, a large Mexican silver bowl, is considered to be the "Oscar" award of the industry for outstanding craftsmanship.
Star Engraving Company of Houston, Texas has produced fine engraving and printing services continuously since its incorporation in 1911. Current owner, John Stephens started working for the prestigious company in 1971 as a Sales Manager. In 1978, Stephens then bought Star Engraving Company determined to continue in the company's tradition of quality and service. Today the family-run business offers fine engraving, five color Heidelberg printing, letter press, graphic design, bindery and copy services. The company's winning engraved entry was stationery for a prestigious Hotel Group out of Houston, Texas. The stationery features an ornamental boxed letter "V' which is interwoven with stylized vines and fruit.
Staff who contributed to the project include Hugo Guerrero, Master Engraver. Suzi Spinks, Stephens's daughter, said "While we may not be the largest company, we believe we are the most customer satisfaction driven and we truly believe in going the extra mile to make every customer happy. That's our promise for an international company, a small law firm or for a bride and groom."